For the love of music
25.11.2020
On December 17th, Papula-Nevinpat will host a live online performance by Finnish classical pianist Laura Mikkola and her daughter Fredrika. We spoke to the duo about music, family, and life on the international stage.
We all find inspiration in people who pursue their talents and passions. Even more so when they turn them into a successful career.
Such is the case with Laura Mikkola, who began playing classical piano at the age of four and entered Finland's famed Sibelius Academy at seven. She has dedicated her life to music ever since, performing with more than 100 orchestras around the world and winning multiple prestigious competitions.
Following in her mother's footsteps, daughter Fredrika took up violin at three. Now aged 13, she studies at the Paris Conservatory and has performed in Europe and the USA as both as a soloist and with several orchestras.
"Fredrika represents our family's sixth generation of musicians," says Laura. "My brother is a brilliant saxophonist, our mother is a professional pianist, and our grandmother was a singer. Music really runs in our blood."
"People need music in their lives. It's even been proven by doctors that classical music helps you," she says. "Now, due to the pandemic, many people are suffering by not being able to go to concerts and hear live music. So we're very happy to do this performance for Papula-Nevinpat."
From Finland to France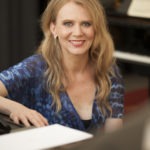 "There was a big Steinway piano in our home when I was born, and I was always enthusiastic about playing it," says Laura. "I remember how as a child I loved Sundays, because it was the day I could practise the most."
Laura's parents introduced her to the culture and music of France from a young age, first sending her to the French school in Helsinki and then on periodic study trips to Paris. She now splits her time between Finland and France.
While she mainly performs with European orchestras, Laura has also played at some of the most iconic music venues in the United States, including Carnegie Hall and the Hollywood Bowl. Her tours have taken her to Egypt, Japan and South Africa too.
Today, mother and daughter often perform together, with Fredrika playing the first part of their concertos on her violin.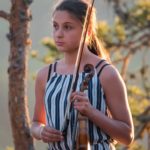 "When I was three, I saw a performance by the Vienna Philharmonic Orchestra and from that moment I wanted to become a violinist," says Fredrika. "My favourite composer is Bach and the pieces of his I love most are the violin duets."
Practiced to perfection
Several modern composers of classical music from across Europe have written pieces dedicated to Laura, who can play 66 different concertos. She finds inspiration in a wide variety of compositions.
"The program we're playing for Papula-Nevinpat includes several pieces by Frédéric Chopin," says Laura. "I always include Chopin in my recital programs – it's such beautiful and poetic music with some amazing melodies. We'll also play a strong virtuoso piece by Pablo de Sarasate, some Finnish music from Jean Sibelius, and a deep and very beautiful Chaconne by Tomaso Vitali."
Both Laura and Fredrika are self-confessed perfectionists who practise daily. Laura has some handy advice for anyone having a bad day, struggling to complete something, or thinking about taking up music.
"When things are not going well, it helps to focus on perfecting a specific part," she says. "Getting a small part right often helps to improve the whole piece."
"Playing a musical instrument is very good for your concentration and memory. If you have the desire to play, you should not hesitate to do so."
Come and join us for the live online performance by registering here.