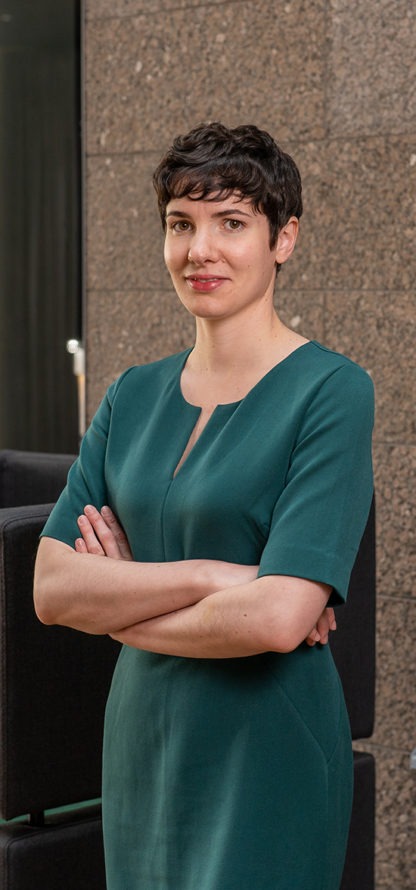 BAPTISTE NATHALIE
European Patent Attorney
Helsinki
firstname.lastname@papula-nevinpat.com
Nathalie Baptiste is a European Patent Attorney at Papula-Nevinpat.
Prior to joining us in 2022, Nathalie worked for 10 years as a patent attorney in France, Silicon Valley, and New York.
Her practice focuses on patent prosecution, strategic counseling, and worldwide patent portfolio management in a broad range of technology areas, including computer science, electrical engineering, telecommunications, and artificial intelligence.
Special expertise
5G, Analog electronics, Antennas, Automation processes and programming, Coding, Diffractive optics, Digital electronics, Encryption, Energy production, Fire prevention, Fixed networks, General electrical engineering, High-voltage technology, Imaging, Industrial automation, Infrared imaging, Light detectors, Luminaires, Machine automation, Machine learning, Manufacturing, Material handling systems, Medical electronics, Medical software, MEMS, Microelectronics, Mobile phones, Mobile work equipment, Nanoelectronics, Networks, Optics, Optoelectronics, Photonics, Power transmission, Processors, Quantum computers, Quantum machines, Renewable energy, RF electronics, RF technology, Sensors, Software, Solar cells, Superconductors, Waste treatment, Wearable electronics, Wearable or implantable electronics, Wireless networks
Assistant
firstname.lastname@papula-nevinpat.com
Technical fields
Artificial intelligence
Automation
Computational engineering
Electrical engineering
Electronics
Energy technology
IT and software
Measuring technology
Medical engineering
Mobile communications
Optics
Physics
Power electronics
Power systems
Radio technology
Semiconductors
Telecommunications and ICT

Languages
English, French, German
Education
M.Sc. (Electrical Engineering & Computer Science), CentraleSupélec, graduate engineering school of Paris-Saclay University, France LL.M. (Industrial Property), Université Panthéon Assas (Paris II), law school of Sorbonne University, France